The favored maîtresse of King Louis XIV, Athénaïs was renowned both for her beauty and her wit. Primi Visconti  Fasolla de Rasa , Court Chroniqueur described her as having a "perfect face", a "nose that was aquiline but well shaped" and a "vermilion mouth with very fine teeth". Poisoner,  black magic worshipper, poisons and other love potions user, seductive, manipulative and power hungry, This is the real evil face of this angelic looking visage.
She bore Louis seven children and enjoyed great favor for many years, leading some courtiers to term her "the true Queen of France". Her favor eventually waned and she came under suspicion during the Affair of Poisons, facing accusations of poisoning and Satanism. In 1691, she retired to the Filles de Saint-Joseph convent. She died in 1707 at almost 67.
The Marquise de Montespan represented as Diana the Roman Goddess
«
Louise de la Valliere, who possessed the heart of Louis XIV from the year 1661 until 1669, was supplanted by Madame de Montespan – born October 5, 1640 to the Duc de Mortemart and Diane de Grandseigne,- who enjoyed his favor with as much brilliancy and empire as Madame de la Valliere had had modesty.
Francoise Athenais de Rochechouart de Mortemart, wife of the Marquis de Montespan; her  elder sister, the Marquise de Thiange, and her younger sister, for whom she obtained the abbey of Fontevraud, were the most beautiful women of their time; all three joined to this advantage singular amenities in the mind. They all wrote with a particular lightness and grace, and their conversation was seasoned with a certain mixture of jest, naivety, and finesse, which was called the spirit of the Mortemarts. She did not hesitate to remind her royal lover that she possessed more quarters of nobility than he had.
"To the most surprising beauty, she joined the most lively, the most healthy and the most cultivated spirit," said the epistolary Marquise, Mme de Sevigne about her, thanks to this sweet mixture, Francoise Athenais de Rochechouart de Mortemart, better known by the name of Madame de Montespan, seduced Louis XIV, but it is also what will make her lose the title of favorite, fifteen years later, at which time she will find refuge at the Chateau de Montespan. Bourg in Evry A house in the fields with a breathtaking view on the Seine, frequented by the nobles fleeing Paris in the summer. In 1695 she  acquires and renovates this building, entrusting Le Nôtre to draw the gardens.
The disgrace of the Montespan came with the famous case of poisons. the Most Catholic King discovering with dismay that the practice of the occult sciences had spread within his court. And that one of the occupations was to serve Louis XIV food cooked with the blood of her  period, moreover black mass practice and child sacrifices. The one who helped the Marquise in her demonic plans was Mademoiselle des Oeillets, her maid and occasional mistress of the King, when the Marquise was either pregnant, indisposed, or ill.
Athénais will gave Louis XIV seven children
Louise-Françoise (1669-1672)

Louis-Auguste, Duke of Maine (1670-1736)

Louis-César, Count of  Vexin (1672-1683)

Louise-Françoise, Mlle de Nantes and future princess  of Condé (1673-1743)

Marie-Anne, Mlle de Tours (1674-1681)

Françoise-Marie, Mlle de Blois and future duchess of Orléans (1677-1749) and at last

Louis-Alexandre, Count of  Toulouse (1678-1737)   
Her maid will give a child to the  King. A babygirl named Louise of the White House, which he refused to recognize and legitimate. However, when  this child  died in 1718 at the age of 42 years old , the parish register of La Queue-en-Yvelines, named her "lady Louise de Bourbon-White House, natural daughter of Louis XIV".
Mademoiselle Des Oeillets, maid of the Marquise de Montespan
Mademoiselle des Oeillets was commissioned to buy from la Voisin – a local witch- "powders for love" for the king. But, from 1675, she also suffered the pangs of passion and burned with the desire to supplant the one she was an employee to. She grew tired of living in the shadow of alcoves, waiting for the intermittent whims of her royal lover. A fortune-teller would have predicted her fortune in the  court. She had the misfortune to believe it. It is very likely today that Louis XIV did not want to legitimize the girl he had with her, Mademoiselle des Œillets decided to poison him by giving Madame de Montespan not the requested aphrodisiacs but poison! To achieve this goal, she sought the help of La Voisin and Lesage who set to work. This might explain the "vapors" that the monarch had had at the beginning of October 1675, he also felt violent headaches, accompanied by chills and choking … Mlle des Oillets mysteriously came to La Voisin in company a mysterious English milord who passed for her lover. She had promised the conspirators a reward of ECU 100,000 and wanted by passes  to facilitate their escape as much as hers abroad. The importance of this sum, the presence of the lord who, according to the daughter of La Voisin, came at least three or four times to his mother, suggest the idea of ​​a political plot. Mademoiselle des Oeillets Carnations would have been in tthis case , only used as the instrument of other interests.
The failure of this first attempt did not discourage the next one. A few months later, in 1677, she left without reason the service of Madame de Montespan 
and gave herself to repugnant practices of black magic in the company of the  La Voisin and the Abbé Guibourg. The following attempts initiated by the Marquise 
out of jealousy towards Mademoiselle de Fontanges (new favorite of the King, introduced to him  by the aging Marquise who thought thus to manipulate the King and
 to preserve his affection thus her social position), like the Mademoiselle des Oeillets whose heart beat always for the sun King despite his indifference to her and her person.
Marie-Angélique de Scoraille de Roussille, Duchess  Of Fontanges, Louis XIV's new favorite, dead at  20 years old .Portrait from Mignard that inspired the  Comtesse de Forget
These later projects - those of 1678-1679 - against Louis XIV and Mademoiselle de Fontanges were only the continuation of previous conspiracies.
Informed, the attitude of the sun king changed completely. If he refused to bring to justice the one who remains the mother of seven of his children, he did not hesitate to show his total disinterest.
It is only in 1685, that will appear the first signs of Athenaïs 's disgrace: in January, she was forced to leave her apartment of the first floor of versailles  for the  baths apartment located on the ground floor, a little less luxurious. "This was the first big step of her disgrace and her remoteness," French philosopher Saint-Simon will say.
In 1687, Louis XIV suppressed his visit to Athenais before his bedtime, thus provoking the great anger of his former mistress.

Athénaïs proudly sees her children from her legal mariage as well as the ones she had from the Sun King;  marry prodigiously: her son, the duke of Maine, is married to 
Marie-Bénédicte de Bourbon-Condé,grand-daughter of Grand-Condé in 1692, and her daughters: Mlle de Nantes, is married to Louis III de Condé (brother of the previous one)
 in 1685 and Mlle de Blois, to Philippe d'Orléans, nephew of Louis XIV and future Regent during the minority of Louis XV, his little nephew. 
She also turns to her only son with the Marquis of Montespan, Louis-Antoine, future Duke of Antin, she will then marry him to Julie-Francoise de Crussol, daughter of the Duke of Uzès 
and granddaughter of the Duke of Montausier, also gives him a annual pension of ECU 2,000 and will buy for him in 1695 the magnificent Petit-Bourg domain.
In 1691, Madame de Montespan retired to the convent of St. Joseph, rue Saint-Dominique, in Paris, which she had founded before and welcomes poor people and children. Athenais abandons her beautiful dresses for a simpler attire, often prays and deprives herself of food in repentence,  and endows the young and poor girls with her personal money. Despite her retirement, Athenais will continue to perform in the world for various occasions or weddings of his children.
En 1704, après la mort de sa sœur Marie-Madeleine, Mme de Montespan acquiert le château d'Oiron qui devient sa dernière demeure.
In 1704, after the death of her sister Marie-Madeleine, Madame de Montespan acquired the Château d'Oiron, which would become her last home. In 1707, during a cure at Bourbon-l'Archambault, that Madame de Montespan's health began to deteriorate. But thanks to the presence of the Maréchale de Coeuvres, she overcomes the fear of death and only consecrates her last days to God. She begins to have weaknesses that her entourage dreads an apoplexy attack because she had a seizure seven years earlier. His granddaughter, the Maréchale de Coeuvres came running, administers a high dose of  emetic that will be the cause of her death.
Françoise-Athénaïs de Rochechouart-Mortemart, Marquise de Montespan,.Louis XIV's famous favorite dies at Bourbon-l'Archambault in the night of 26 to 27 May 1707 around 3 am in the company of her son. At the announcement of the death of the Marquise de Montespan to Louis XIV,he will simply say: "Since I had dismissed her, I never expected to see her again." Clear message that showed people that the Marquise was already dead for Louis XIV.
Elle sera inhumée en l'église de Cordeliers de Poitiers comme tous les autres Rochechouart. Le tombeau sera profané durant la Révolution et ses ossements (comme ceux de sa famille) seront dispersés. Le mausolée de marbre noir trouva refuge au château des Forges de Verrières puis réintegra Poitiers. Quelques vestiges se trouvent aujourd'hui dans la cour du musée de Chièvres.She will be buried in the church of Cordeliers de Poitiers like all other Rochechouart family members. The tomb will be desecrated during the Revolution and her bones (like those of her family) will be scattered. The black marble mausoleum found refuge at the castle of the Forges de Verrières and then reintegrated to Poitiers. Today , some still remain in the courtyard of the Chièvres museum.
Epilogue :
After the death of his mistress, Louis XIV thought he was done with her. But he was wrong! When he died in September 1st 1715, they searched in haste for a ceremonial bed on which to expose his mortal remains. One was found in a height of the chateau, which was installed in the room adjoining the throne room. But no one, neither Madame de Maintenon, nor the royal family, nor the captain of the guards, nor the first gentlemen of the chamber, nor the monks, nor the priests chanting the prayer of the dead, noticed in the sky of this bed, staring at the dead king, there was a portrait of the flamboyant Marquise, fresh and radiant as in the most beautiful years of her glory. We had simply forgotten to remove it.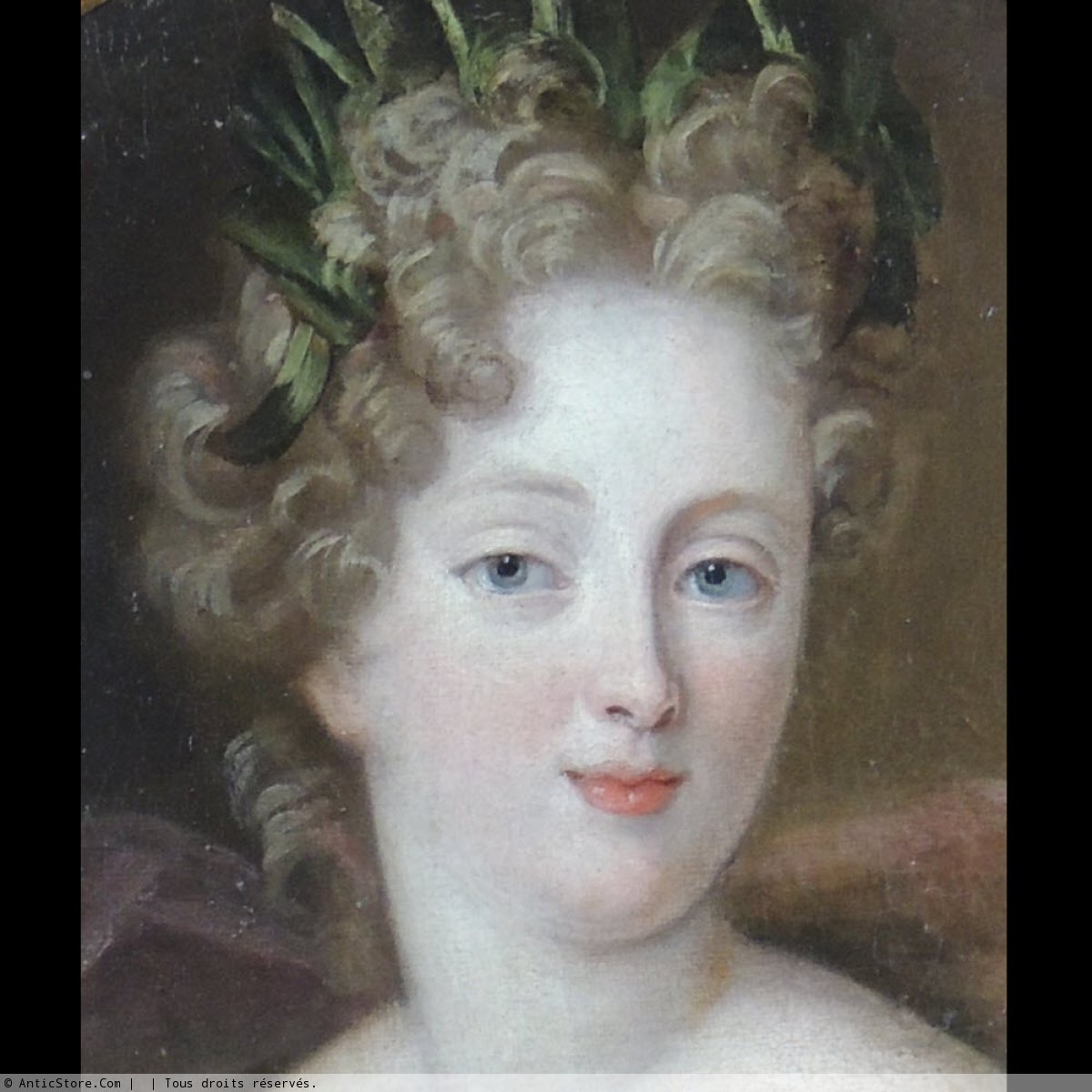 Copyright © 2019  Angie Paris Rues Méconnues Officiel. 1997-2019 All rights Reserved
paris #versailles
 #HistoireDeFrance #NotreHistoire #lafrancedesbourbons⚜️#courtisane