She was LA GOULUE…Louise Weber (1866-1929) was 'La Goulue', the famed cancan dancer of Le Moulin Rouge, and the highest-paid performer of her day.
She was dubbed 'La Goulue' or The Glutton for her habit of downing the drinks off tables as she danced past. This vibrant, audacious and gutsy sensualist would high-kick the hats off male customers' heads with a toe during her routine. And dance on the table tops, and flash a red heart embroidered on her under garments.
Perhaps Jewish and from L'Alsace, Louise Weber settled into the Paris suburb of Clichy, and began working in a laundry with her mother. Even at 16 she revealed her daring – borrowing clothes of put in for cleaning to go to the dance halls at night.
There she met Auguste Renoir, who introduced her to nude modelling for artists and for photographers such as Achille Delmaet, and from there she found her way into the dance clubs and halls of Montmartre. She was immortalised by in lithographs and paintings by Henri de Toulouse-Lautrec.
She formed a dance partnership at Le Moulin Rouge' with Jacques Renaudin (1843–1907), a wine merchant who danced under the name of Valentin le Désossé or Valentin the Boneless. Doing the 'chalut', an early version of the cancan.
Determined to capitalise on her considerable fame, La Goulue broke with Le Moulin Rouge in 1895 to set up her own dance hall, and when this venture failed, she travelled about fairgrounds as a belly dancer, with her own booth (Barraca de La Goulue). She failed again, and end her days in alcoholic destitution, reduced to support herself selling peanuts, cigarettes and matches – unrecognised and on a street corner near the Moulin Rouge!
Apart from her representations in art, Louise Weber is know today through restaurants round the world bearing the name 'La Goulue', from Paris to the Upper East Side in New York to Sydney.
Louise Weber was filmed in older age – firstly, sprooking the crowd at her fair booth, 'La Barraca de La Goulue', using a monkey in a cage, and secondly, on the steps of her derelict caravan home, chatting to a friend of times long gone and then dancing a few of the steps that made her fame at Le Moulin Rouge.
Watching this tiny second clip, it's impossible not to respond to her efforts re-capture some of the vitality and abandon of her Can Can days. There is still some of the delicious and vigorous fluidity and the rhythmic abandon, but in the gentler mode of old age. And still the beautiful placement of body, arms and legs.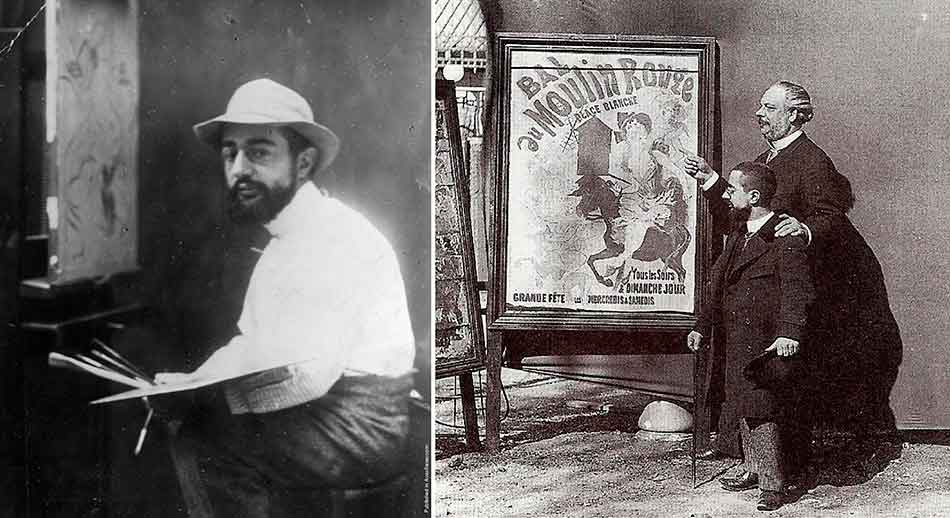 The quadrille knows a great triumph and soon the all masculine Paris; crashes into the smoky atmosphere of the famous ball in the tintamarre of the brass, the laughter of the girls and the soft slip of the impassive boys who serve champagne and Absinthe. Great lords mingle with the notaries in bad encanailment: the Duke of Talleyrand, Prince Poniatowski, the Duke of Sagan, the Comte de La Rochefoucauld, the Prince Troubetzkoy and, always, Henri de Toulouse-Lautrec and his pencil;
However, time flies. Comes the one where it becomes painful to dance. Well endowed with money la Goulue has set up a Carnival that Toulouse-Lautrec has decorated and that would work well on condition that she wants to, but she has started to drink, to drink more and more and the alcohol will bring him down one to one all degrees of forfeiture. Becoming a huge gossip, plastered and crouling, she will not only return to her starting point, which would not be a catastrophe, but reach the depths of misery.
In 1929, an old woman, with white hair, comes to the 84 Boulevard de  Rochechouart.
It is a famous House in Montmartre because it once housed the first black cat, then the Mirliton which was the cabaret of Aristide Bruant. Now it is a hospital House run by nuns. The woman is asking for work. She is ready to do anything as long as they are willing to feed and shelter her.
She is hired as a maid but by pure charity, because it is obvious that she has no more strength.
Yet she does her best, happy to have found a kind of home and left behind and horrible loneliness. But she is really worn out by the rum and the foolish life she has led. Soon come sthe time of agony and she asks for a priest.
When he leans over her bed, she raises to him uncoloured eyes that have lost the hardness of yesteryear:
-I would like to confess, she whispers humbly, but do you believe that the good Lord will forgive me? I was the Goulue…
Copyright © 2019  Angie Paris Rues Méconnues Officiel. 1997-2019 . All rights reserved
#LaGoulue #ToulouseLautrec #Frenchcancan #Montmartre #Livresanciens #bibliophilie #photographiesanciennes #auction#cancangirls #bloomers #cancanboots #blackstockings #oolala#Levraiparis #moulinrouge #frenchcancan #Lagoulue #Paris # #pinup #pinupgirl #oldiesbutgoldies #peinture #movie#boudoir #burlesque #cabaret #moulinrouge #occitanie #curvy #frenchcancan #cancan #Paris #Courtesans #famousHookers ##paris🇫🇷 #parisstyle #parisianlifestyle DuTrottoirALaGloire #