Charles X, especially known as Count d'Artois (1757-1824), was king of France and Navarre from 1824 to 1830.
Succeeding his two brothers, Louis XVI and Louis XVIII, he is the oldest King of France, at his advent (66 years) as at his death (79 years). Attached to the conceptions and values ​​of the Ancien Régime without being as reactionary as it has often been said, he tried to embody the continuity of the State and the monarchy after the violent revolutionary passage, while accepting the majority the values ​​of his time. Very pious, it seems that Charles X attached a certain importance to the social condition of his people. Popular among the peasants of the province, who had badly experienced the First Republic (royalist insurrections), Charles was on the contrary mocked by the Parisians (often Republicans and Robespierrists); already perceptible under the Ancien Régime, the rupture between the capital and the monarchy is definitely consumed.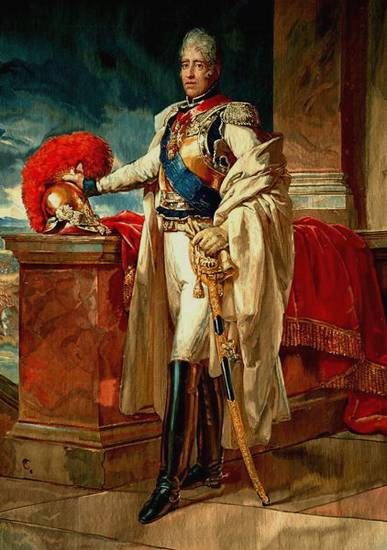 In exile, Charles X carries the title of courtesy of "Count of Ponthieu", name of locality which will be given to a street of Paris.
The deposed king first retreats to Holyrood Palace, Scotland.
Thanks to his good relations with the Habsbourg-Lorraine dynasty, he moved to Prague Castle, where he received visits from Chateaubriand.
He then leaves for Budweis then has to flee a cholera epidemic and finally reaches Göritz (Slovenia).
He died because of cholera  in this  town on November 6, 1836 and was buried in Kostanjevica (Nova Gorica, Slovenia
Copyright © 2014   Angie Paris Rues Méconnues Officiel. 1997-2014 Tous droits réservés.