Paris Fashion Week Mensweare Automne/Hiver 2020
 The fall / winter 2020-2021 collections for the most prolific of the big 4 kicked off on January 14th. Men's Fashion from Tuesday 14 to Sunday 19 January 2020
 The collections dedicated to Men's Fashion will take place from Tuesday 14 to Sunday 19 January.
53 fashion shows and 30 presentations will take place on the official calendars, ie 83 brands presented..
Fashion Shows
BOTTER / FRANCE / 2017, CRAIG GREEN / ROYAUME-UNI / 2013, RHUDE / ETATS-UNIS / 2018, ROCHAS HOMME / FRANCE / 2019
Presentations
ALDO MARIA CAMILLO / FRANCE / 2019, DAVI PARIS/ ITALIE / 2018, DOUBLET / JAPON / 2013, ZIGGY CHEN / CHINE / 2012, LI-NING / CHINE / 1990, OTEYZA / ESPAGNE / 2011, WE11DONE / COREE DU SUD / 2019
I had the chance to attend a few and here are my favorites and or hated and challenged.
This year the women's season will not be for me because I will be at #Grammys
My favorites
Valentino
"On the skin, under the skin." This could sum up the absolutely magnificent collection offered by the Italian couturier whose reputation is undeniable and which despite everything always manages to surprise. Pierpaolo Piccioli has played on the male-female side, but without making tons about it. The result is just touching, moving, as well as a call to look at yourself and seek to express your emotions rather than restraining them.
Because nowadays being good, gentle and benevolent in the world in which we live today is not a sign of weakness, but on the contrary of great strength because we do not let bitterness, violence and the wickedness of the world get us.
I appreciated not only the men's handbags, the neoclassical clothes, but also the mannequins, which were, really pleasant to look at, without any vulgar attitude. Simplicity is the ultimate luxury they say!
British singer FKA twigs enchanted us with her hypnotic voice
Raf Simons
The talented Belgian designer Raf Simons launched his eponymous brand in 1995, wearing a very architectural and fairly minimalist style. It was in 2012, with his appointment as artistic director for the house of Dior, after the exuberant Galiano, that the popularity of the stylist exploded. A true revolution in the fashion world, he continues to collaborate with big street companies, such as Adidas, as well as fashion shows for Dior. Its own men's collections always compose with these two styles, ready-to-wear and haute couture, forming a full and disconcerting universe.
A very structured collection, it is part of this Belgian movement so at odds with French "baroque" and "classicism", in which less is the friend of the better. A return to basics perhaps.
This collection carries meaning and hidden messages, very moving in its deployment and moving in its course. the clothes are worn loose, allowing a fluidity of movement but remains well cut. Questions about the life and place of youth now, about the world we are creating and will leave.
I must say that I was really pleasantly surprised.
Louis Vuitton
This collection marks the return of Virgil Aboh in the game and we can assure that it is a return with fanfare. Surprising his world regarding  the scenography – ocean blue tones, giant keys annotated Vuitton, as much as pairs of scissors – original and offbeat, as for a first for his production … three-piece suits combining elegance and originality! The Tuileries garden had, for the occasion, put on its most beautiful attire under.
A scenography that evokes and highlights the marvelous crafswork , impeccable cuts and the attention given to details by the little hands. A charming neo-romanticism.
Big up for the original, practical and very elegant collection of men's bags and luggage.
In terms of people, the inescapable Bella Hadid muse and friend of the designer, all dressed in electric blue, but also the Arnault family, the K-pop star Kris Wu from Exo , the Belgian footballer Thomas Meunier, and Michael Burke the CEO of the House.
Amiri
That's 70 show.
This collection is for me a tribute to the icons of British rock from the 60s and 70s. Those who marked the world with their notes as much as their looks. Bowie certainly would not have denied this collection and Sir Mick could have jumped on  stage in these dashing pants so close to the body while singing "let's spend the night together" and I can assure you that a sea of candidates would have devoted themselves.
Earth colors ranging from brown to beige for basics with touches of white or vibrant color. Everything invites softness and comfort (velvet, suede), thus illustrating a surprising blend of strength and indulgence.
A male collection with female models for rock'n'roll jet setter – special mention for the army of handbags and travel bags – that does not sacrifice their well-being for this tribute to the Rolling Stones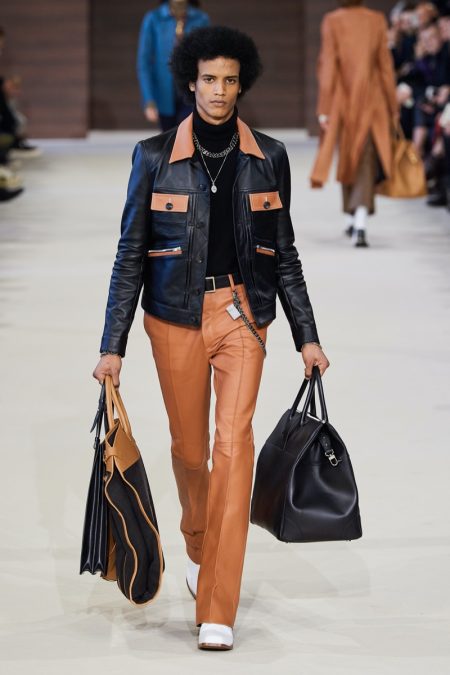 What I liked least
WALTER VAN BEIRENDONCK
Walter Van Beirendonck is part of the group of Six from Antwerp, made up of former students of the Royal Academy of Fine Arts in Antwerp, in the 80s and who are today considered to be the avant-garde of design fashion on the Belgian scene in particular.
His colorful style is inspired by everything: nature, modernity, art, architecture, design, the world of sado-masochism which he mixes to create his aesthetic. For me it is not fashion at all, and I am lin to be fan of such collections, but undoubtedly it  has its public. To be reserved for fans of improbable and unconventional things
Rick Owens
I admit that I am absolutely not a fan of this style because even if creativity exists, you must never lose sight of the essential: a piece of clothing is necessary to dress and I do not see too much how the proposals made meet this need. Especially for an autumn / winter collection. Global warming or not, there are still parts of the globe that are cold in winter.
Graphic, unstructured, minimalist style playing more on architectural and geometric figures than aesthetics. Once again, I'm not a fan at all, but I can admit that his art is more the expression of a social protest that defies a certain idea of ​​masculinity and especially its counterpart: machismo. Through his collections, Rick Owens questions, upsets and sets the record straight: we are as much a man as a woman and this is reflected in his designs and  his models, who, without being effeminate, or even metrosexual show obvious signs of femininity (long hair, boots with heels, etc.). Contestant and minimalist certainly, simple but not simplistic, you have to manage to see beyond the garment of its function to appreciate the almost philosophical concept that motivates each collection.
Copyright © 2020- Intellectual property of 'Angénic Agnero- All rights reserved 1997-2020.