Getting excited to go to the Grammys once more. Though I missed a lot of the pre-grammys conferences, parties and events, thankfully my team : Paris Par Rues Méconnues Usa is there to take over and do the job for me.
So time to take off  !!
This time I was booked to AeroMexico.
First time, great time.
Nothing to complain about. And I also had a vegan option for dinner .
 And a typical mexican desayuno.
9am.. We are approaching LA..AT LAST!
A view I very much enjoy 🙂
How very funny! My USA team is crazy. Emily and Drew are hilarious, waiting for me at the airport with a cappucino ..with my nickname ..!!
Mon surnom- My nickname lol
Views of Los Angeles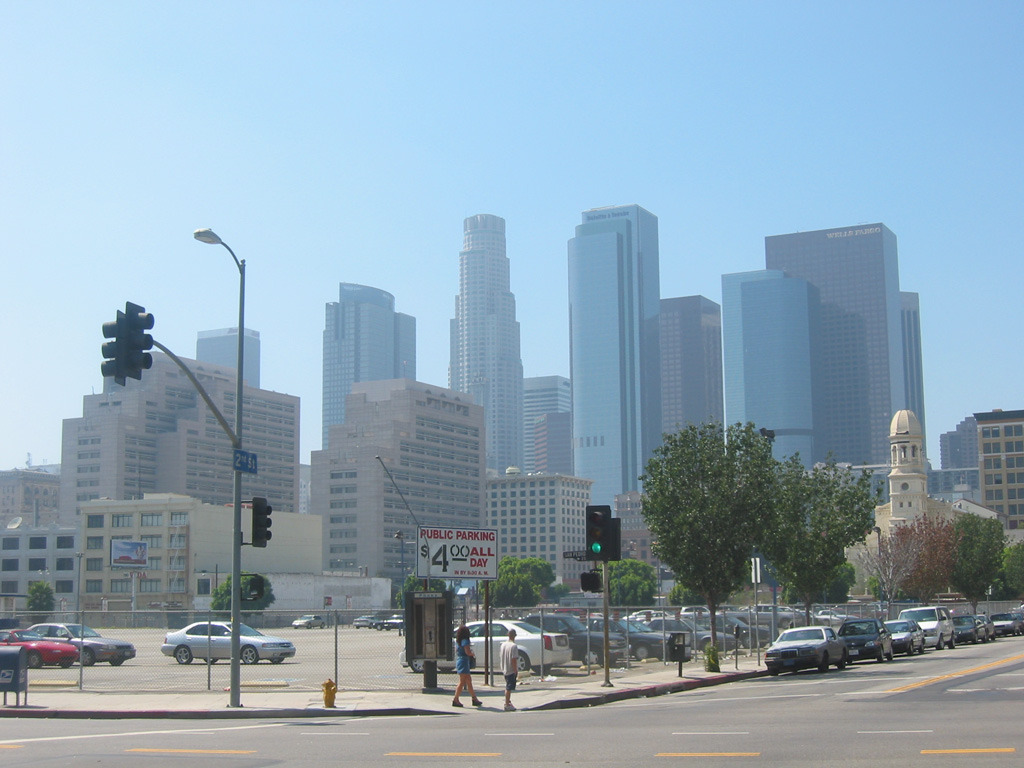 Who's afraid of heights… a new reason to get sick to your stomach and lose your mind doing it from 73 stories high high high overlooking all of Los Angeles… The 73-story U.S. Bank Tower, which rises 1,018 feet (310 m) in Downtown Los Angeles and was completed in 1989, is now the second-tallest building in Los Angeles. Glass Skyslide has been added to exterior of California's tallest skyscraper A glass-enclosed "skyslide" is being added to the US Bank Tower in downtown Los Angeles, offering thrill seekers the opportunity to glide down the building's exterior. Called Skyslide, the glass chute will measure 14 metres in length and 1.2 metres in width, and will be installed approximately 304 metres above the ground below. The enclosure will be made of 32-millimetre-thick glass panels. Renderings show the slide attached to the 72-storey building by a metal support system.
"Visitors will experience Skyslide's unparalleled views in a whole new way, as they glide from the 70th to the 69th floor of the US Bank Tower," said the developer, Singapore-based OUE Limited, which purchased the office building in 2013. The slide is part of a new observation area called Skyspace LA that is being added to the 310-metre US Bank Tower, which is California's tallest building.
Designed by Pei Cobb Freed & Partners, the skyscraper was completed in 1989 and was the first supertall tower in the western United States, according to the Council on Tall Buildings and Urban Habitat. Totaling $50 million (£35 million), the current renovation and enhancement project – which global firm Gensler is designing – is meant to add tourist appeal to the ageing office tower, which faces competition from renovated historic industrial buildings that are popular with creative agencies and tech companies. Roughly 75 per cent of the tower is currently occupied, according to reports. Carlo Ratti designs mile-high observation tower with a park on top.
"Skyspace LA is poised to be a beacon of the reemergence of downtown LA as a thriving community," said OUE Limited.
The 260-square-metre Skyspace will offer California's highest open-air observation deck . The space will offer panoramic vistas of the region, including views of the San Gabriel Mountains, the Pacific Ocean and cultural landmarks such as Dodger Stadium. The US Bank Tower in Los Angeles was designed by Pei Cobb Freed & Partners and completed in 1989 It will also contain interactive exhibits. The 360-degree Digital Topography Wall of Los Angeles will present information on neighbourhoods and points of interest, while the Infinity Wall will show an endless series of reflections. The Silhouette Wall will feature digital pixels that form shapes based on the body movement of visitors. Good Luck! loL
Cost: Approximately $19 – $75 (as of 2020)
Location: 633 West Fifth Street Suite 840 Los Angeles, CA 90071
After that dreadful experience , we head out for a calmer and safer activity.. The Grammy Museum.
Localisation
800 W Olympic Blvd.
Opening hours 
Monday to Thursday :  10:30 am to 6:30 pm.
Closed on Tuesday.
Friday and Saturday: 10.00 am to  8:00pm
Price
Adults : US$15 (13,6€).
Over 65 : US$13 (11,8€).
Between 6 & 17 years old : US$13 (11,8€).
Children under 5 : free entrance
Transport
Métro : Pico,  Expo Line et Blue Line

The Grammy Museum exhibits show historic musical instruments, records, ancient manuscripts, costumes and instruments used by the different musicians who won the prize, among many other surprises.
One of the most interesting areas of the museum is the reproduction of a recording studio. It allows you to experience the process of recording a song in person and even to understand how album covers are created.
 I got to visit some of Michael Jackson's most famous clothing articles.  I cannot find the right words to describe their aura. It was absolutely phenomenal to physically witness Michael's blood, sweat, and tears right in front of my eyes. I always imagined Michael to be this very tall man, but although thin and lean, these clothing articles are much smaller in size. Every stitch was in perfect uniform; every sequin was flawlessly aligned; all smooth surfaces were polished. Legends live forever on.
Before heading to the current Amy Winehouse exhibition I went down to memory lane
Mama Cass' jewelry box, tea cup and saucer on display at the Grammy museum.
The British singer is honored by the Grammys Museum with that great exhibition..Beyond Black. It will run until April 13th.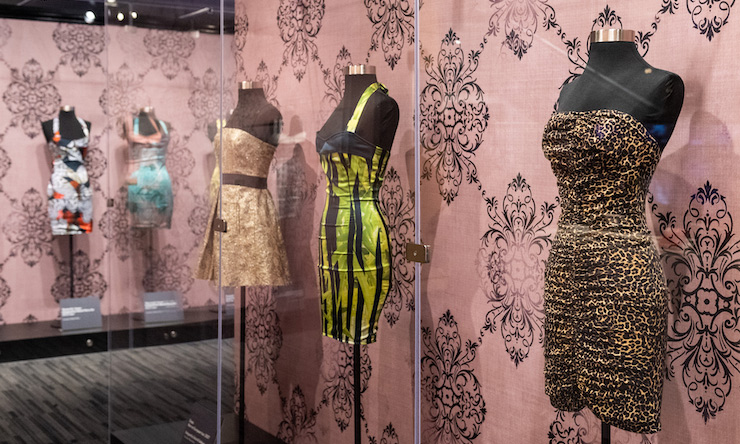 All of her most significant outfits are showcased from her Dolce& Gabbana dress she  had on when was awared five grammys for the first time , or the one  she wore when she performed live on the Grammys's stage. Personal items ( notes, songs, beauty products) are also showcased with the clothing line she designed for Fred Perry. 
If Amy was a musical ufo, she was also passionate about fashion and style. With her friend Catriona Gourlay and personal stylist Naomi Perry, she invented her look. The one she will be recognized forever for.
The exhibition was set up alongside Gourlay and Perry with a close supervision so the true spirit of the Brit lady is preserved.
After all these emotions it is time to head out  to my home away from home for a few days , grab some food and then go out to attend events and blog.
Copyright © 2020- Intellectual property of Angénic Agnero- All rights reserved 1997-2020.