The continuation of men's fashion shows for the fall / winter 2020 collection.
My impressions and favorites as well as my rants.
TAAKK
The 2019 winner of the Fashion Prize of Tokyo. For 3 years now at the initiative of the Tokyo Metropolitan Government and the Japan Apparel Fashion Industry Council (JAFI), in co-sponsorship with the Japan Fashion Week Organization (JFWO), this price has existed . It aims to help creators based in Tokyo to develop on the international market. . FPT supports the brand a little further than the TOKYO FASHION AWARD project, which supports 6 winning brands based in Tokyo to promote their creations and creativity at an international level.
Former student of Bunka Fashion College, Takuya Morikawa, has worked at Issey Miyake men for 8 years before launching his own brand. If he has already participated in New York Fashion Week, this prize awarded in October 2019, has allowed him to be admitted into the very closed circle of creators showcased for the most prestigious session of BIG 4: Paris Fashion Week.
If in general his style is resolutely urban, ethnic or even very very avant-garde, this edition is more classic in the European sense of style and tires of seeing other possibilities. This inventive creative has more than one string to his bow. The scenography was also interesting: no one seated, all standing and housed in the same boat.
GMBH
This kind of clothing is one of the least pleasant to me and calls out to me as to the usefulness of such trivialities in my opinion. But beyond my personal taste – tastes / disgust – and colors cannot be discussed. This very graphic and Gothic collection preserves the esoteric elements (huge necklaces in perfect circles) and the street and nightclub atmosphere that made it famous as well as their signature: black pvc pants with sunglasses … A way to pay tribute or revisit the Matrix trilogy maybe ??
To sum it up a brand that keeps on evolving enable to renew itself. After a collaboration with GEL-Kayano 5 OG, initiated by the creative director of GmbH: Serhat Isik, for sneakers with aerodynamic shapes, presented for the first time during SS20 fashion week, the very young Berlin brand, shapd after of the spirit of the Kreutzberg district, led by fashion photographer Benjamin Alexander Huseby and nominated for the LVMH prize innovates in shoes. And fight for better ethnic visibility, black, mixed or Middle Eastern models being more cast by the collective to present their creations during the fashion shows.
Big up to them for that point.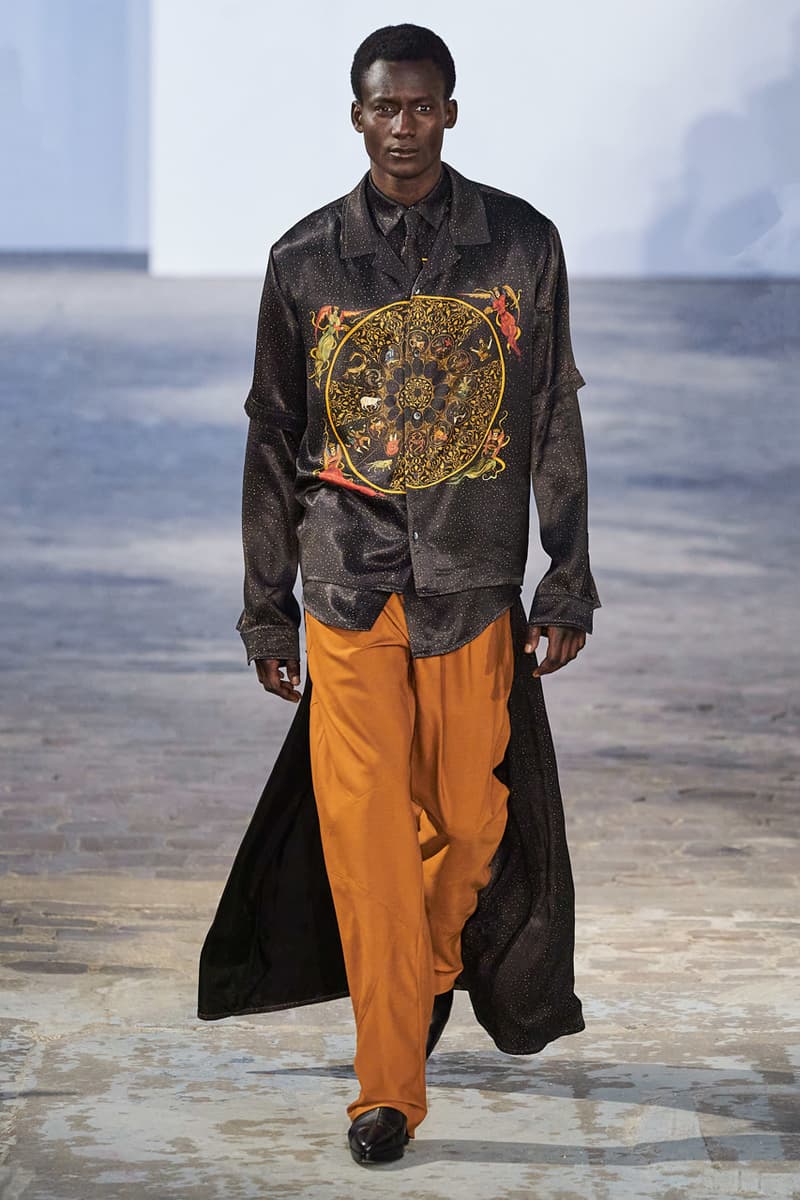 HERMES
A rather challenged start … shaken we will say because of anti-Macron demonstrators and others protesters who came to declare their anger and tried to force the entry of the superb and historic place Mobilier National affiliated with the Manufacture des Gobelins and property of the French Ministry of Culture. The police had to intervene and certain VIP guests such as Mr. Bob Chavez, president of Hermès Americas, could not even enter to attend the show.
Inside it was another atmosphere with e glasses of champagne were served to keep guests waiting, in their leather armchairs (faux pas..a big no no leather !!) impatient to discover the collection created by Véronique Nichanian. For more than 30 years, she has reigned over men's fashion at Hermès, insisting on a practical and discreet luxury side. Ostentatious is not part of her personality or her way of seeing things.
This collection is no exception and we find the basics and this love of craftsmanship well done: clean cuts, fine seams, impeccable finishes .. ancestral French know-how is once again put to honor. The chic cozy, a little British gentleman with camel colors, dark green, and enveloping sweaters focusing on comfort without class and style behind.
Vêtements by Kate Moss Agency
The British top model has more than one string to her bow and has played a hell of a trick on us by showcasing.. her clone. To be mistaken: she walks like Kate, pout like Kate has the silhouette of Kate but her name is Denise Ohnona. In the company of Mike Tyson, Angelina Jolie, and even her great friend Naomi Campbell clones, the look alike injected glamor and good humor into this collection proposed by the British top model agency.
Co-created with Guram Gvasalia, in 2014, Vêtements. On the program only classics: heeled shoes, odious shoulders, a Gothic font or two, and the strange memey T-shirt for good measure. This collection felt like the end of an era and what a shame not to have finished it with panache. Indeed Gvasalia announced its departure for the end of last year, the brand is therefore in search.
The real Kate Moss, she was at the Dior parade at the other side of the city..
Dior
Under a giant tent, Place de la Concorde between the Tuileries Garden and the Champs-Élysées under the watchful eye of the 3300-year-old Egyptian obelisk, the fashion show of the Dior house imagined by Kim Jones was held on January 17 who paid tribute to the punk iconoclast Judy Blame with a flamboyant collection steeped in the house's couture heritage.
Metallic gray colors, high gloves, a very trendy look but still classy. Amazing. And a very powerful tribute!
people: among others Kate Moss, Robert Pattison, Courtney Love, Cara Delevigne of course Bella Hadid.
Balmain
This collection is obvious, especially after watching the documentary released last year on the life of the creator, adopted at a young age by a couple from Bordeaux and having lived in a loved and very bourgeois environment, the terrible child of fashion: Olivier Rousteing discovered aged 30 years his Ethiopian and Somali origins.
And it is this emotional tidal wave, this connection to mother earth and his roots that is found in this collection, without a doubt, the most sought after, personal and "exposed guts" of the creator so far.
The clothes could be worn by desert nomads, skin color, sand, camel, caramel, deep black, blood red. Ample, fluid and comfortable with a twist because he does not forget its childhood either.
A collection that tells the world that from now on Olivier Rousteing feels complete, at peace and well in his skin.
WOOYOUNGMIOFFICIAL AW20 RUNWAY.
Sean Suen's collection continues its sentimental and poetic, colorful explorations. Calligraphy, study of paintings are the starting points of a collection that cannot be ignored. We find all the Asian finesse as well as his vision of the world reflected in his eclectic professional career. Born in Chongqing, he lived in various cities such as Shanghai and Beijing. Artistic courses with fine art and a specialization in painting before becoming a graphic designer and now a fashion designer. In 2012 he launched his brand and since then continues to explore and mix his three passions. Excellent choice of male models!
But also Y project
Runway show from the Parisian brand strongly influenced by Margiela and part of this movement of very avant-garde Belgian designers.
Not at all what I prefer but the brand has its followers from Rihanna to Christina Aguilera or more recently singer Haylsey
Atelier Franck Durand
Animation done for the opening of the Holiday Boileau Showroom realised under the direction of @atelierfranckdurand #holiday #boileau #atelierfranckdurand #showroom #pfw #paris
Benji in Paris. __ • @lesbenjamins @bunyaminaydin @laamvan •
A little sum up video of my best of
Copyright © 2020- Intellectual property of Angénic Agnero- All rights reserved. 1997-2020.