The World Health Organization has published a recipe for hydroalcoholic gel to deal with the shortage. And you can make it yourself, at home.
What is an antibacterial gel?
Antibacterial gels are composed mainly of alcohol, antiseptic and antimicrobial agents and an emollient to avoid skin irritation. Without rinsing and quick drying, they are very practical to use.
Why make your own hydroalcoholic gel when you can find it so easily in stores and for a very low price? The main interest is to use natural ingredients, and no chemicals. Indeed, some gels sold in the market contain endocrine disruptors, such as triclosan and triclocarban. 
L'The World Health Organization has published a "Guide to Local Production of Hydroalcoholic Solutions" on its website. Here are the ingredients you'll need: 96% ethanol (equivalent to spirit alcohol, which can be found in stores), hydrogen peroxide, which is just hydrogen peroxide, available in pharmacies, and glycerol, or glycerin, which can also be found in pharmacies.
Next, the recipe is quite simple. In a clean measuring cup, measure out 833 milliliters of alcohol. Mix in 42 milliliters of hydrogen peroxide. Add to this 15 milliliters of glycerine. Top up with water until you have one liter of solution. After mixing, your homemade hydroalcoholic gel is ready.
With essential oils?
A variation is suggested on the website of the TV channel C News: pour 45 ml of aloe vera gel, a moisturizing agent with antiseptic properties that are good for the skin but also bactericidal, anti-inflammatory and antifungal, to prevent infections caused by fungi. Then add a teaspoon of vegetable oil – such as jojoba oil, flaxseed oil, or camelina oil – a moisturizing and emollient agent, to relax and soften the skin.
 For more effectiveness, you can also add 8 to 10 drops of essential oils. You can choose ravintsara oil, known for its antiviral and anti-infectious properties, tea tree oil, which is antiviral, antifungal and antiseptic, or lavender oil, for its fragrance, but also its healing and skin regenerating properties. Knowing that nothing prevents you from mixing them. Watch out: essential oils can cause allergies, it is necessary to test them on a small part of the skin before using the preparation.
 Finally, add 5 ml of alcohol at 70°C or 90°C to your preparation. Note that below 60° alcohol, the gel will not be effective against all microbes and bacteria. Then mix the whole with a whisk to homogenize, then pour the preparation in a small bottle of 30 or 50 ml according to your needs. Your hydroalcoholic gel can be kept for six months at room temperature.
The ingredients you need.
Four products are necessary to the realization of the hydroalcoholic gel, it is about the essential oil of tea tree, the essential oil of ravintsara, the aloe vera and the alcohol to 70 °.
tea tree essential oil
Powerful antiseptic, the tea tree fights effectively against microbes and bacteria. Its essential oil has antiviral, antifungal and antiseptic properties, which is why it is used in the composition of the hydroalcoholic gel.
 ravintsara essential oil
This oil has a very strong action against viruses and has powerful anti-infectious properties. It is thus very indicated to fight against the microbes and other harmful organisms for health. Moreover, associated with the essential oil of tea tree, it develops immuno-stimulating properties and thus reinforces the immune system.
aloe vera
Widely used in the world of skin care and cosmetics, aloe vera has many benefits. It has a strong water retention capacity and is rich in nutrients. In fact, aloe vera is ideal for moisturizing, softening and smoothing the skin. Introduced in the composition of the hydroalcoholic gel, it will prevent the skin from drying out because of the presence of alcohol at 70°. 
70° alcohol
The 70° alcohol is ethanol, very effective to fight against micro-organisms such as microbes. It is also a very good disinfectant. The 70° alcohol destroys microbes and bacteria by denaturing their proteins. You can use pure alcohol or denatured alcohol.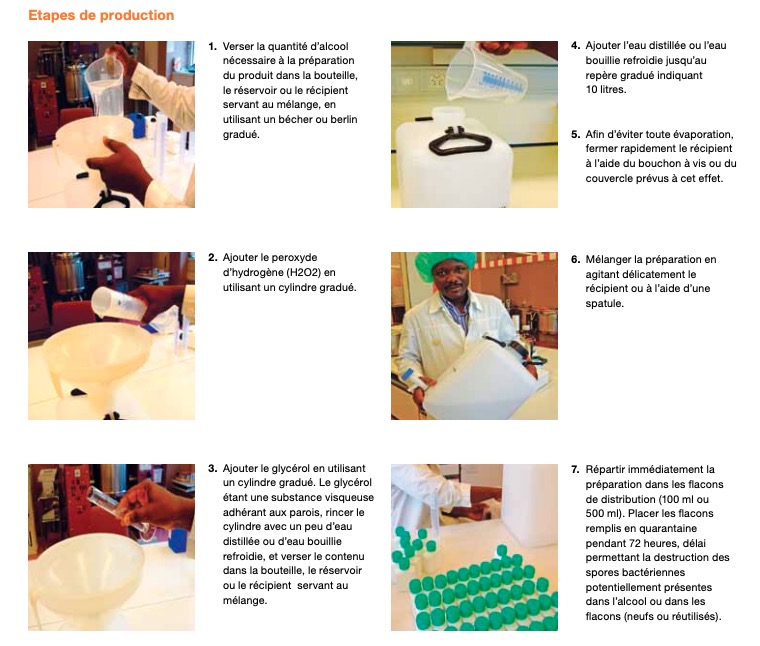 The recipe
For the realization of the hydroalcoholic gel, it is advised to use a small bottle with capsule of approximately 50 ml, to be able to transport it easily in your bag.
Directly into the bottle, pour 15 ml of 70° alcohol and add 30 ml of aloe vera. Stir to create a homogeneous mixture and incorporate 10 drops of essential oil of tea tree and 10 drops of essential oil of ravintsara. Stir again so that the 4 products mix well.
Be sure to shake your bottle well before using it.
Counter-indications :
 This hydroalcoholic gel should not be used by pregnant women, nursing mothers and children under the age of 3.
Recipe for Antibacterial gel without alcohol.
First thing: you clean your work surface, your equipment and you wash your hands before starting.
Ingredients and materials needed :
45 ml of organic aloe vera gel

1 teaspoon of vegetable glycerin

10 drops of  Niaouli EO
10 drops of  RavintsaraEO

8 drops of Manuka EO
A small 60 ml pump bottle
1  small stainless steel bowl + a mini stainless steel whisk
 Pour the vegetable glycerin and the aloe vera gel into the stainless steel bowl. Mix with a mini stainless steel whisk. Add the essential oils, then mix and pour the mixture into the pump bottle. Add a label with the date and ingredients. Keep your bottle away from light and heat. This gel can be kept for 6 months. You will find the virtues of essential oils of Niaouli and Ravintsara  ici & ici.
Manuka essential oil is a powerful antibacterial, antiviral, antifungal (20 times more than Tea Tree oil on some bacteria and germs)
Put a small amount of your product in the palm of one of your hands. Then rub them one against the other, for 15 to 30 seconds, without forgetting to pass between the fingers. Do not rinse, it is a solution without rinsing. Your hands must be dry before application. The gel must not come into contact with an open wound.
Avoid contact with the eyes. For example, do not use gel on your hands before putting in your contact lenses. Antibacterial gel is a one-time solution to sanitize and disinfect our hands.
 Nota Bene An antibacterial gel is a sanitizing solution that has bactericidal, virucidal and fungicidal properties, but it has no cleaning effect. It destroys germs, viruses and prevents contamination to other people, but it does not replace hand washing. The washing of hands will be required all the same as soon as possible with water with soap. The sanitizer gel does not wash the hands. 
Copyright © 2020- Propriété intellectuelle d 'Angénic Agnero- Tous droits réservés 1997-2020.